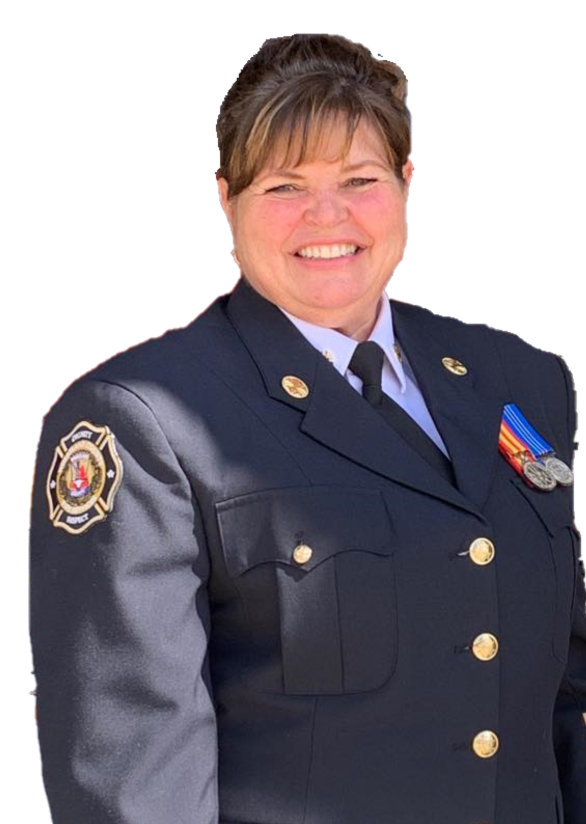 Judy Unsworth
Director Of Emergency Services
An award winning Fire Chief, Judy brings over 23 years of Emergency and Fire Management experience and expertise. Throughout her career she has worked in numerous roles in both County and Urban fire services. This robust experience working with both volunteer, part time and fulltime firefighters makes her the ideal candidate for any fire department looking for an experienced proven leader. Judy has a keen interest in making things better for first responders and the communities they serve, she advocates for women in the fire service industry and recognizes the importance of mental health initiatives.
Certifications
NFPA 1001 Level II
NFPA 1021, 1041
Fire Officer I
NFPA 472 Operations Level
Security and Emergency Response Training Centre (SERTC) Tank Car Specialist Certified
Incident Command System 400 advanced
ICS specific position training: Command and Communications
Specializations
Fire Leadership
Emergency Management
Project & Work Experience
2019 – 2021
Deputy Fire Chief – Town of Strathmore
Responsible for managing the department's transition to a combination department with both fulltime, part time and volunteer firefighters. Acted as Chief during the COVID pandemic activation and created the levels of response plan for the fire services within the municipal pandemic plan. Created specific guidelines for the safety of all first responders including decontamination procedures and pandemic response procedures.
2014 – 2019
Manager of Emergency and Fire Services – Wheatland County
Fire Chief responsible for the implementation of the existing Fire Services Review and subsequent plan. Created the Wheatland County Fire Services Department, this included creating policies, guidelines, and subsequent bylaws, uniting four departments under one umbrella. Ensured that the remaining five departments shared the same SOG's and response guidelines.
Authored the Municipal Emergency Management Plan for Wheatland County and ensured training was rolled out to all staff for all positions.
Chaired the Regional Emergency Services Committee, responsible for creating a committee in a very diverse environment to work on creating a Regional Emergency Management Plan that served all areas of the municipality.
Acted as Incident Commander for all emergency operations centre activations including severe blizzards, a train derailment and wildfires that saw the evacuation of two hamlets.
2012 – 2014
District Fire Chief – Rocky View County
Effectively managed and continuously enhanced departmental operations and procedures, emergency management, and medical response. Managed fulltime, part time, and volunteer firefighter response for a large diverse geographic region. Performed as the commander for the 2013 floods in Rocky View's Emergency Operations Centre and later ran site command in Bragg Creek.
2019 Canadian Volunteer Fire Chief of the Year Award from the Canadian Association of Fire Chief & Underwriters
Canadian Association of Fire Chiefs Women Fire Chiefs and Company Officers founding member 2018
Alberta Fire Emergency Wildfire Women (AFEW Women) founding member 2017
Alberta Fire Chief's Association 2020 Conference Committee
Canadian Association of Fire Chiefs Mental Health Committee, 2020 – 2021 Committee Member
South Central Emergency Management Committee, Committee Member 2014 – 2021